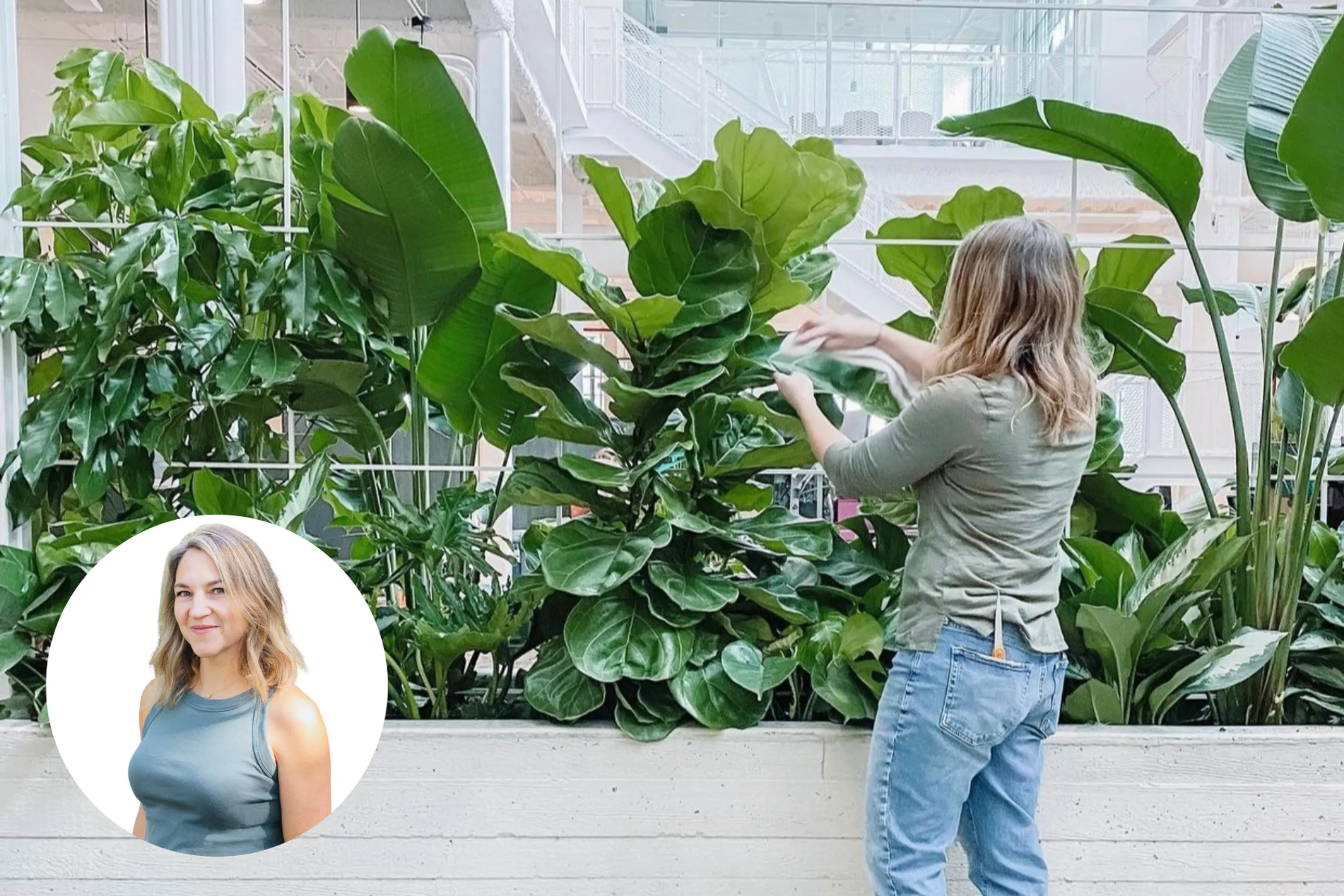 Stephanie Williams founded Variegated Designs in 2016 with the mission of bringing modern plants to the modern office. Her unique designs have graced some of Chicago's most notable buildings, including the newly renovated Old Post Office and headquarters for brands such as Google and ShopRunner. Stephanie was kind enough to answer some questions for us!
What inspired you to work with plants, etc.?
I grew up on a farm in Ohio and was always surrounded by plants and crops. I wouldn't say I was acutely interested in plants then because it was just a part of life to help plant the vegetable and flower gardens. In college, I took a plant biology class that had an amazing professor that dressed in costume for certain lectures. I would have to say, that was when I fell in love and realized I wanted to work with plants.
How did your company get started and what's your background?
I have worked in many different fields in the plant world, from public gardens, to research gardens, to plant nurseries to interior plantscapes. It seemed that the interior plantscape kept reappearing and eventually, I had the opportunity to create Variegated Designs and incorporate all of these experiences.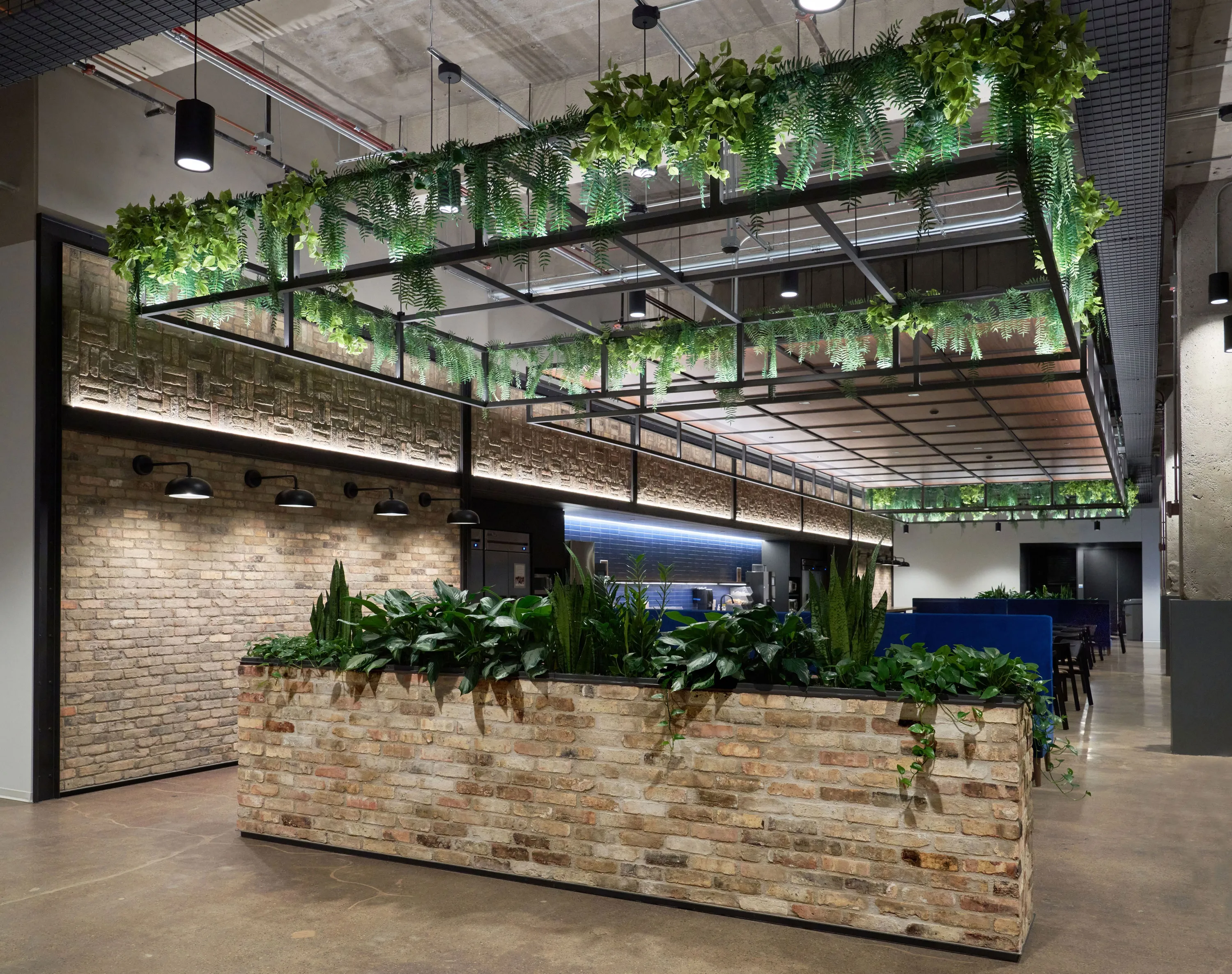 Why do you think there has been such an increase in demand for plants in commercial environments over the last few years?
I feel like designers and stylists have found a way to use plants as accessories in a space. There may also be a resurgence of people wanting to be closer to nature or to feel healthier and plants help with that. I also think offices are becoming more diverse with different areas to work. Plants help soften the space and could help employees feel more comfortable and able to focus on work better.
What are some budget-friendly ideas for workspace designers who want to incorporate biophilia into their designs?
It doesn't take a full green wall to get the green touch in a space. Sometimes just a few strategically places floor plants or table top plants will do the trick. Also, a trellis, wall planters or a few hanging plants add a great green layer that softens the space.
What plants thrive well in commercial environments or what do you recommend/use often in your projects?
This is a hard question to answer! I have a love/hate relationship with all plants. Some may be great for one space and horrible in another. I like the Sansevieria family because they have a great vertical structure, are durable for high traffic areas and rarely have any pest problems. I love a good philodendron, Ficus Audrey, and staghorn fern. While they all need bright light in the space, they can be pretty durable with proper care.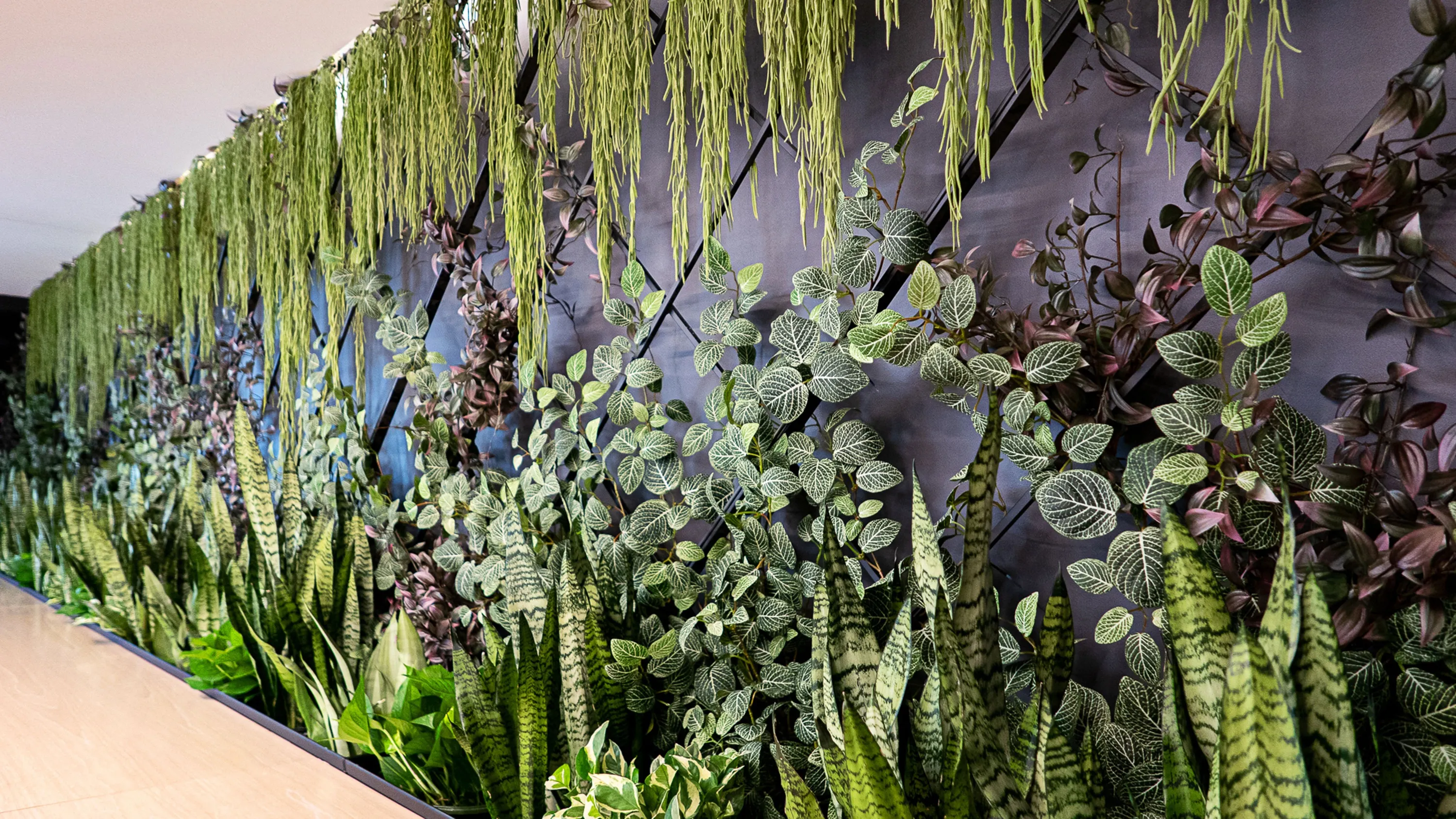 What trends are you seeing for biophilic design?
Definitely hanging plants are getting their time. Suspended shelves are showing up a lot, like plant clouds, hanging sign/shelves like the Remedy project. Rather than have the same plant variety repeated for a clean look, we are seeing more layering, multiple plant varieties and textures mixed, creating a casual comfortable space with a lush/green feel.

I have always been fascinated when plants take over abandoned buildings and grow into an area not specific for them. It just shows their resilience. As we add plants to the suspended shelves and in metal framed plant clouds, we are touching on that idea of 'plants will take over.'

Top 3 tips you would give designers when they want to incorporate plants into their projects?

Light light light! In order to have live plants, they need natural light and lots of it.
Not all faux plants are bad - especially if there isn't any light. I would rather see a nice faux plan than a dying live plant.
Plants are the fun part. Don't take it too seriously. They are the organic touch to the design and will grow naturally into the space. They are imperfectly perfect. Embrace the imperfection of the live plants. That is the fun part!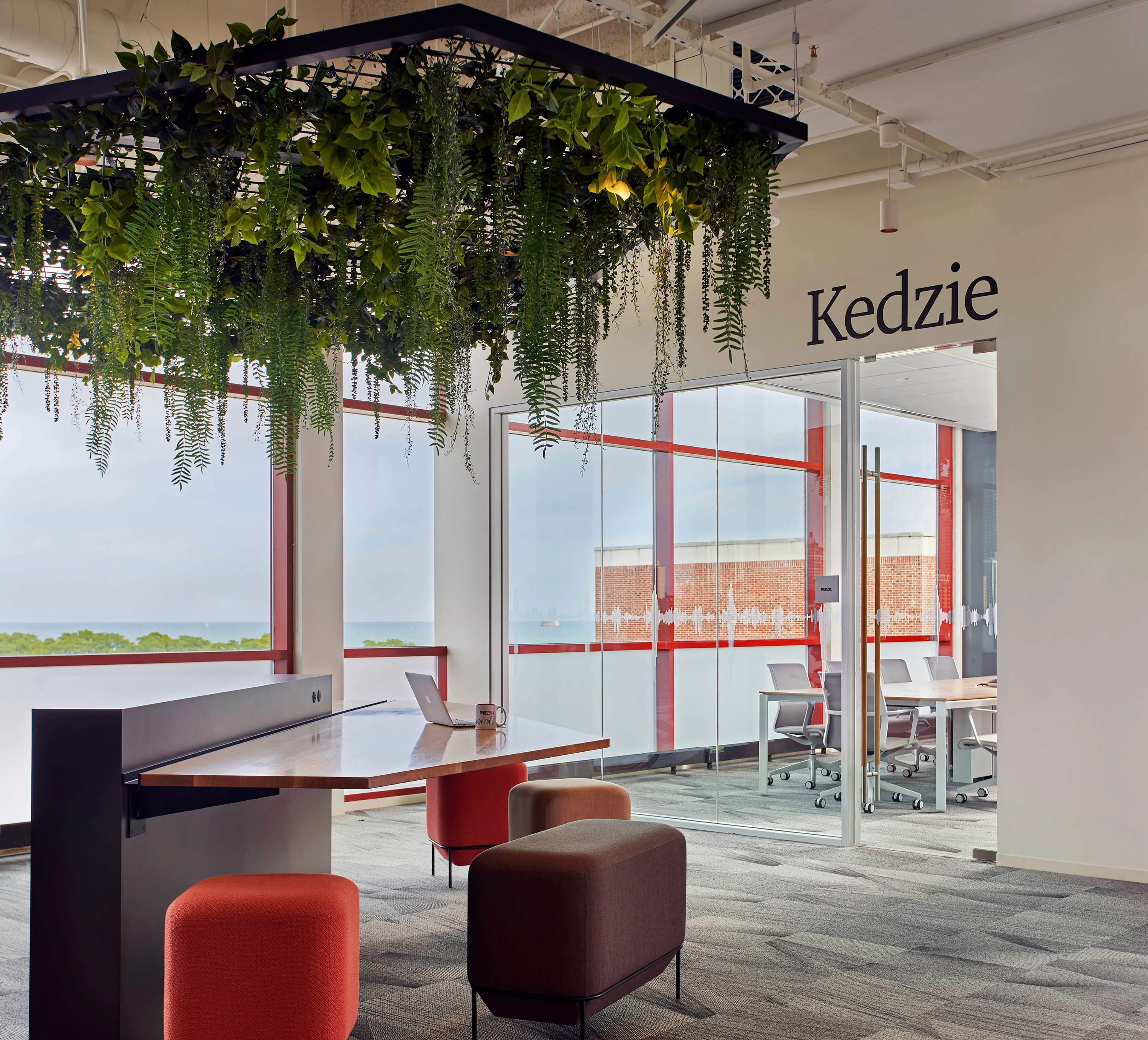 How do you work with designers? Do they come to you with an idea or do you assist in the process?
It is both. Sometimes the designer will show me a rendering of their idea and I can create the look for them. In that conversation, we discuss depth of planters, plant attachment points and anything else needed to accomplish the look. It is great to be involved in the beginning stages of a design. If the planter will hold live plants there is a specific depth needed to fit the grow pot. On the other hand, if the planter will hold faux, there may be some things that aren't necessary and can be removed. It helps save money and time for all involved.
What has your favorite project been to date and why?
It always changes! Right now, I am loving our newest project Studio 3 in Fulton Market. There is just something about the over grown plants that makes me feel like nature is taking over. I also loved the WBEZ Plant Cloud. It was so fun to do and has an impact on the space without taking up any square footage.